Beaded Regalia Strap - Beaded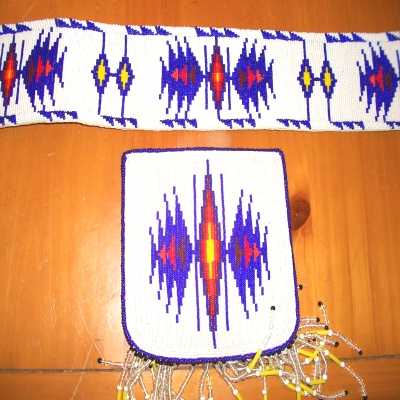 Here we have a very unique and unusual piece. This magnificent item was originally made to be a belt for wearing in full 'regalia' in pow wows and the like. The item was acquired from the widow of one of our custom strap makers. After his passing, we acquired the belt and immediately thought that it would make an absolutely stunning instrument strap! It comes complete with a front piece that is removable. The 'strap' itself measures 42" long by 3 1/2" wide. The strap is completely beaded from one end to the other and is exquisite. Since this piece was designed as a belt, it features two gromets at each end rather than traditional guitar ends. We have taken the liberty of adding appropriate black bison ends to this lovely piece. This adds about an additional 12 inches to the overall length of the strap. Of course the item could still be used as a belt, but we see it as the perfect instrument strap!
Specifications
Style
Beaded
Color
White & Blue
We're sorry, this item has been sold.