Welcome! Thank you for taking a moment to visit Lakota Leathers, makers of the finest musical instrument straps available anywhere.
Each Lakota Leathers strap is assembled on the Pine Ridge Lakota Sioux Indian reservation in South Dakota, USA. Pine Ridge has the undesirable distinction of being the poorest county in the entire United States. The purchase of any Lakota Leathers strap not only gives you the ultimate quality, but helps provide income for people on the reservation. Truly a 'cottage' industry, Lakota Leathers straps are assembled in living rooms and on kitchen tables of the people who make these wonderful straps.
DON'T be fooled by look alikes, knock offs, or 'buffalo' leather straps. Most of these use cheap imported water buffalo. Some even claim to be "American Buffalo".. the truth is these are water buffalo imported and dye cut in the US so they can claim "American" and also "Buffalo". American Bison are technically not buffalo, but are sometimes referred to as 'American buffalo" So don't be fooled by these fake straps, slick marketing techniques, or cheap prices. Remember, you get what you pay for!
We use only native leathers which have been used by the Lakota people for millennia. Bison (American buffalo) and Elk are our leathers of choice. These leathers are extremely supple and provide for unsurpassed comfort no matter what instrument you play. Our bison hide straps are available in four colors (chocolate, black, spruce, and tobacco) and are available for guitar, banjo, resonator guitar, and mandolin. Hand braided Elk hide straps are available for mandolin and available in a multitude of color choices.
All Lakota Leathers straps are 100% guaranteed to be the softest, strongest, and most comfortable strap you will ever use. Additionally, they are the ONLY strap we are aware of that offers a 100% lifetime guarantee. Rest assured, you are getting the best when you purchase a strap from Lakota Leathers. Thank you for taking time to visit Lakota Leathers!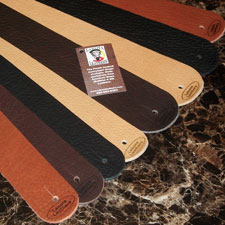 Great for both electric and acoustic instruments. Each guitar strap is made from Bison (American Buffalo) leather. These are the softest, most comfortable straps you will ever use. Available in either 2" or 3" widths and four standard colors. Money back guarantee if not 100% satisfied.
Visit our Guitar Straps section for our full selections.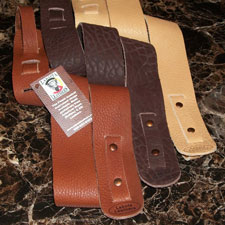 Lakota Leathers offers a unique, cradle banjo strap design which incorporates our 48" tail section that completely encircles your banjo. Our standard cradle strap offers unsurpassed comfort and security for your banjo. No metal touching your banjo and ultimate comfort make a Lakota Leathers banjo strap your obvious choice!
Our banjo straps are available in four colors and either 2" or 3" widths as well as our standard cradle and non-cradle versions.
Visit our Banjo Straps section to see our entire lineup!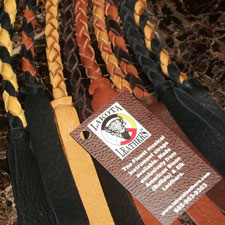 We feature over twenty varieties of hand made mandolin straps. In fact, we are unaware of anyone who offers a more extensive variety! Flat braided and round braided elk leather, as well as non-braided buffalo (American Bison) leather mandolin straps are our specialty. The newest additon to the Lakota Leathers lineup of mandolin straps is our unique "Herringbone" braided strap. The finest mandolin strap available, the herringbone features five strands of Elk leather, an elk leather loop for attaching around your scrole or headstock and our luxurious heavy weight bison leather tail section. The tail section is made from the same luxurious bison leather that we use on our guitar and banjo straps.
Check out our complete lineup on our Mandolin page!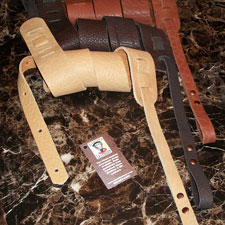 Our resonator guitar straps are second to none and fit all Dobro® brand guitars as well as all other resophonics. These great straps are also perfect for your acoustic or electric guitar that doesn't have a neck strap button. They attach at the headstock similar to the way Johnny Cash wore his guitar. These unique straps feature a set of Chicago screws to fasten at the headstock. These provide for unsurpassed safety of your cherished instrument!
Visit our Resonator Straps section for more details.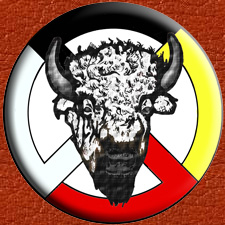 Here at Lakota Leathers we aim to please! So by popular demand we've decided to introduce a full line of Lakota branded gear. Everything from hats & T shirts to genuine deerskin gloves and bison leather wallets. There's something for everyone so be sure to check back often as we are just getting started and we will be adding new products all the time!