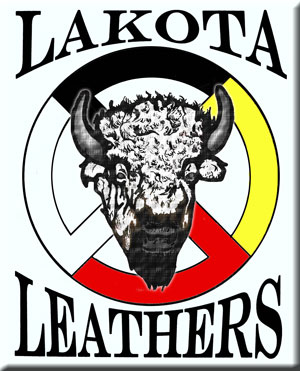 About Lakota Leathers
Lakota Leathers was founded in 2008 by Kenny Bohling of Sevierville TN.
It all started after hearing Marty Stuart's song "Three Chiefs" on our local radio station WDVX, in Knoxville TN. The song tells the story of three of the great Lakota Sioux Chiefs of the past. After hearing the song, Kenny purchased the Badlands CD on which the song can be found. The song inspired Kenny to make his first trip to South Dakota with a load of used blankets from local motels to help the impoverished people of the Pine Ridge Indian reservation near Rapid City South Dakota.
After seeing first hand the poverty of the reservation, Kenny wanted to do more to help. Realizing that he had owned an American Bison hide banjo strap for over 25 years, Kenny knew that the Lakota people could make these fine straps.
Years later, Lakota Leathers is now a reality and produces guitar, banjo, mandolin, and resophonic guitar straps. You can find Lakota Leathers at over 175 dealers nationwide and in several foreign countries as well.
Please contact us for the location of your nearest dealer.
Thank you for your support.
To purchase a Lakota Leathers strap, use this Web site or Call (865) 963-9303.
Here are a few photos taken at Pine Ridge.
Click any thumbnail below to see the photo gallery.