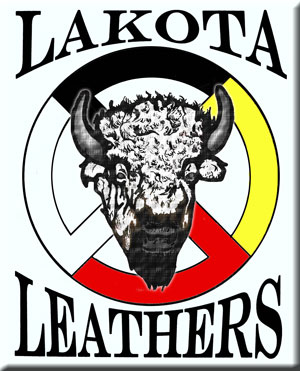 About Lakota Leathers
A quick note regarding the current situation:
Hello everyone, and thank you for taking the time to drop by our website. While everyone is being effected by the current situation, we would like to take this opportunity to thank everyone who has supported, continues to support, and will support us. Our customers and supporters have been the best and have blessed us more than words can ever say. We truly appreciate you from the bottom of our hearts.
As would be expected, this entire thing has hit the reservation hard. Folks can't leave their dwellings and most do not have the luxury of having a stocked pantry or ability to 'stay home' and work.
Now more than ever, your patronage is appreciated. We know times are tough and this is why your business means so much to each of us involved with Lakota Leathers.
We are well stocked on straps and as long as the post office is up and running, so we will be as well. We are shipping the same or next business day on all orders as usual. We are blessed to be able to ship around the world from our home and will continue 'business as usual'.
So sit back in your easy chair, grab your banjo, guitar, mandolin, reso, uke, mandola, or any other instrument you fancy.. make some music, post some 'facebook live' or youtube videos. Share the music, share the love, share, share, share!
Also during this time, I will have the opportunity to go through our inventory. Something I've been meaning to do for quite some time.. and 'dig out' some straps that were not up to our normal standards . I know I have quite a few of these "B stock' straps somewhere.. When I find them I will post them on our standard strap pages and be offering a discount on them. I believe that most of them are thinner than normal and will be a good choice for lightweight instruments. Check back often for updates.
In the meantime, stay safe and healthy. Love you neighbor and fellow man.. God Bless each and everyone of you in Jesus name.

Kenny
Lakota Leathers.
Lakota Leathers was founded in 2008 by Kenny Bohling of Sevierville TN.
It all started after hearing Marty Stuart's song "Three Chiefs" on our local radio station WDVX, in Knoxville TN. The song tells the story of three of the great Lakota Sioux Chiefs of the past. After hearing the song, Kenny purchased the Badlands CD on which the song can be found. The song inspired Kenny to make his first trip to South Dakota with a load of used blankets from local motels to help the impoverished people of the Pine Ridge Indian reservation near Rapid City South Dakota.
After seeing first hand the poverty of the reservation, Kenny wanted to do more to help. Realizing that he had owned an American Bison hide banjo strap for over 25 years, Kenny knew that the Lakota people could make these fine straps.
Years later, Lakota Leathers is now a reality and produces guitar, banjo, mandolin, and resophonic guitar straps. You can find Lakota Leathers at over 175 dealers nationwide and in several foreign countries as well.
Please contact us for the location of your nearest dealer.
Thank you for your support.
To purchase a Lakota Leathers strap, use this Web site or Call (865) 963-9303.
Here are a few photos taken at Pine Ridge.
Click any thumbnail below to see the photo gallery.