Custom Beaded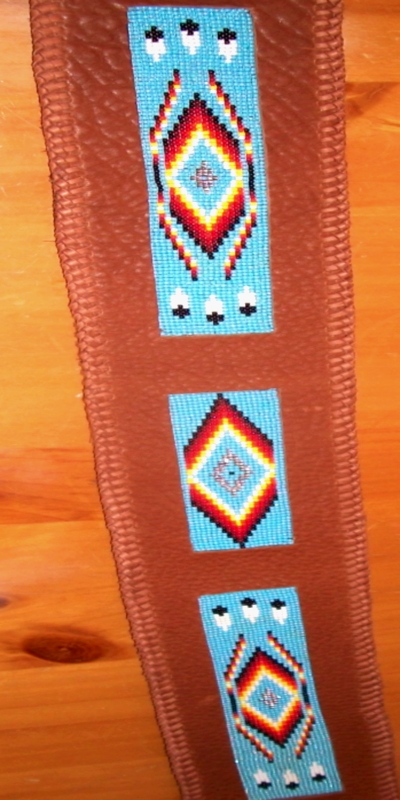 Just in from the reservation is this stunning beaded strap. This one of a kind strap features three seperate beadworkings on double thickness bison leather. We started with two of our 'rosewood' bison leather straps and hand stitched them together with over 90 feet of deer leather lacing.
This strap is so stunning that pictures simply can not even come close to it's showing its real beauty. After seeing this strap up close, I was tempted to keep this one for myself and will do just that if it isn't sold prior to Christmas. I have seen a hundred or so of these beaded straps but this one is extrordinary! The beadwork on either end features eagle feather representations and is absolutely amazing.
Exquisite beadwork, the most supple bison leather and deerhide lacing will make this strap the perfect Christmas gift or treat for yourself and your special instrument.
The leather on this strap has already been punched as a guitar strap, but could be modified to fit a banjo, resonator guitar, or mandolin. Please inquire if you intend to use this strap as anything other than a guitar strap.
Specifications
Color
Sorry Sold
We're sorry, this item has been sold.